Kaoru|Solo Exhibition 2019 "Naughty Calano" just announced! "krim&zon Exhibition" to be held simultaneously too!!
2018.11.26 INFORMATION
It has just been announced that the first solo exhibition by Kaoru "Naughty Calano" will be held from Jan. 31st (Thu). to Feb. 3rd (Sun.), 2019!
"krim&zon Exhibition" (The characters ideated by Kaoru) will be held simultaneously too!!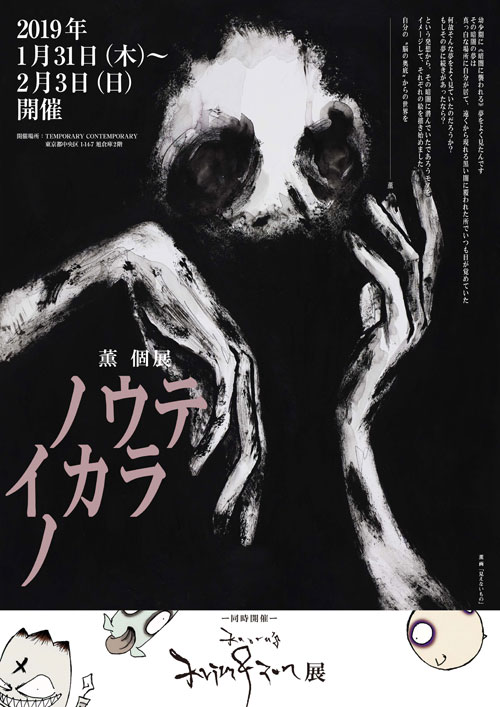 Kaoru Solo Exhibition "Naughty Calano"
≪simultaneous exhibition≫"krim&zon Exhibition"

<Open period>
Jan. 31st (Thu). to Feb. 3rd (Sun.), 2019

<Venue>
TEMPORARY CONTEMPORARY
(2 min. by walk from Tokyo Metro Yurakucho-line Tsukishima Station and Toei Subway Oedo Line Tsukishima Station)

■Daily Open Hours
1st Entrance 11:30~12:30
2nd Entrance 13:00~14:00
3rd Entrance 14:30~15:30
4th Entrance 16:00~17:00
5th Entrance 17:30~18:30

■Entrance Fee
Pre-sale fee ¥3,780(tax incl.) /1 Entrance

■TheThe Day Members Only Ticket Pre-sale
Ticket Application Time Frame:11/26(Mon.) 12:00~12/9(Sun.) 21:00
Ticket Payment Time Frame:12/11(Tue.) 13:00~12/21(Fri.)18:00
http://www.co-yomi.com/thetheday/

■General Sales
Jan. 12th(Sat.) 10:00
http://eplus.jp

Please read carefully:
※In order to let you enjoy the exhibition at the best conditions, the entrance is allowed only at the time and on the day stated on your ticket.
※Entrance order to be the same of the ticket number.
※Free entrance for pre-scholar children (May not enter the venue without adult supervision).
※You need a ticket in order to purchase the merchandising.

(Inquiries)
NEXTROAD 03-5114-7444(Weekdays 14:00~18:00)

※「a knot」 and our official site cannot accept any inquiries regarding these exhibitions.