Kaoru|『読弦 弐』(Dokugen Two) to be released / Talk show & signing event announced too.
2018.12.03 INFORMATION
It has just been announced the release of the second volume of 『読弦』(Dokugen), the book compiling the column "Kaoru's Dokugen" started back in May 2012 on the magazine "Ongaku to Hito". This book will bring you not only the columns from Apr. 2015 to Jan. 2018, but also the essay wrote appositely for the final issue, long interviews, photos and a gallery of advertising design done by Kaoru himself: this book will help you getting to know his personality for sure!
Last but not least, it has been announced that a talk show & signing event will be held on Jan. 20th to celebrate the release of the book, where Kaoru will share with you some episodes and curiosity about the production of the book you won't be able to hear anywhere else!
So, this is the last chapter of this autobiographical essay. Higuchi Yasuyuki / Ongaku to Hito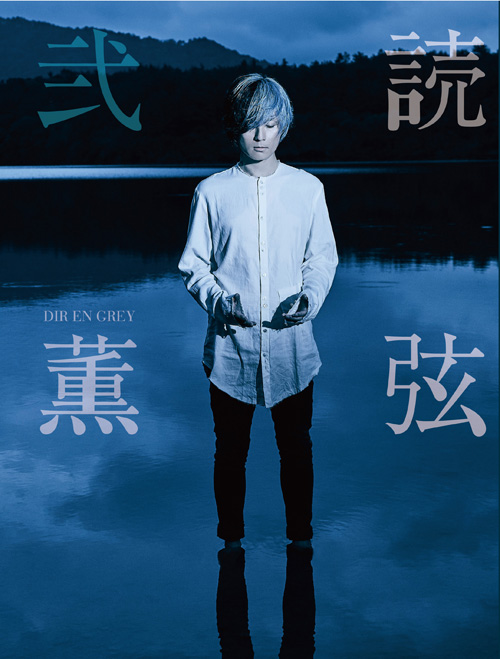 Sold Exclusively at Tower Records!
DIR EN GREY Kaoru
『読弦 弐』(Dokugen Two)
Release: Dec. 23rd, 2018
Price: 2,700JPY+tax
Published by: Ongaku to Hito Inc.
[Format ・ Contents]
A5 Size – 208 pages / full-color additional pages with photos / Column「Kaoru's Dokugen」 from Apr. 2015 to Jan. 2018 / Long interview / Special essay / Dokugen advertising design gallery by Kaoru
≪Read carefully≫
This book will be on sale exclusively at Tower Records. It will not be available at other bookstores / CD shops. If the book is not available at the Tower Records shop near you, please order/purchase it at Tower Records Online shop.【Free Shipping】
http://tower.jp/item/4837915
Talk show & signing event to celebrate the release of 『読弦 弐』(Dokugen Two)

■Day and time
Jan. 20th (Sun.) 2019, starting from 17:30~

■Venue
Tower Records Shibuya B1F CUTUP STUDIO

■How to attend the event
・Customers who purchase a copy of 『読弦 弐』(Dokugen Two) (12/23 release, available at shops from 12/22) at Tower Records Shibuya or Tower Records Shinjuku, will receive a "Event priority ticket". First come first served basis.
・A "Event priority ticket" will be reserved at the moment of the preorder. You will receive the "Event priority ticket" when you go to the shop to purchase the book.
・"Event priority tickets" are available in the no. of the max. event attendance. Distribution of the tickets will stop as soon as the max no. has been reached.
・You may pre-order this book at the Shibuya or Shinjuku shop or on the phone (only Shibuya or Shinjuku shops). Online shop orders are not be eligible for event tickets.
・"Event priority tickets" will be exchanged to "Numbered event tickets" on the day of the event, starting from 16:00, at the special counter at Tower Records Shibuya B1F.
・1 "Numbered event ticket" allows only 1 person to attend the event.
・Only 1 "Event priority tickets" per person. You will not receive more than 1 ticket even when purchasing more copies of the book.
・On the day of the event, attendees will line up on the ticket no. basis starting from 17:00. Please wait in front of the stairs at 1F. Staff will check the lining up order matches with the ticket number before opening the venue.
・There will not be an handshake.
・Signs to be made on the book only. Please make sure to bring your copy of 『読弦 弐』(Dokugen Two) with you on the day of the event. If you forget to bring your volume you will need to purchase another one to attend the signing event.

■Where to pre-order a copy
Pre-orders acceptance will start on Dec. 4th (Tue.), from the shop opening time. (Online orders are not eligible for the event)
Tower Records Shibuya: preorder acceptance starts at 10:00 at 2F or on the phone (tel:03-3496-3661)
Tower Records Shinjuku: preorder acceptance starts at 11:00 at 7F or on the phone(tel:03-5360-7811)

■Max. number of ticket reservation
1 ticket
・You will get only 1 "Event priority ticket" even if purchasing more than 1 copy of the book.

■Shops
Tower Records Shibuya
Tower Records Shinjuku

【READ CAREFULLY】
※You may preorder the book at the Shibuya/Shinjuku shops or on the phone at the same shops.
※You will receive the "Event priority ticket" when picking up the product you ordered.
※No matter how many copies do you order, the shop staff will reserve 1 "Event priority ticket" per person.
※"Event priority ticket" are limited. You will not receive the ticket on orders/purchases made after the planned no. of tickets has been reserved.
※Make sure to bring with you the "Event priority ticket" on the day of the event.
※The "Numbered event tickets" to be given out on random basis.
※Entrance order will be the same of the "Numbered event tickets".
※We cannot re-issue "Event priority ticket" or "Numbered event tickets" for any reason.
※Children attending elementary school will need a "Event priority ticket" and a "Numbered event ticket" in order to attend the event. Pre-scholar children may attend the event if accompanied by adult (needs a "Event priority ticket" and a "Numbered event ticket")
※It is strictly prohibited to resell the "Event priority tickets" / "Numbered event tickets"
※We do not accept refunds or returns for this product. In the case the item is damaged it will be replaced with another copy.
※Every attendee should custody his/her valuables and personal items. Shop staff cannot be entrusted of any kind of item, even big ones such as suitcases and strollers.
※A limited number of coin lockers is available in the venue (price 300JPY).
※You may not bring food or drinks into the venue.
※The event may recorderd/photographed.
※It is strictly forbidden to take any act that may cause any inconvenience to the shops and other third parties.
※Dangerous behaviors, as well as behaviors that may cause any inconvenience to the other attendees are strictly forbidden.
※Please follow the instruction of the event staff. If you do not conform to the instruction you may be asked to leave the venue. Both the shop and the event organizer company are not responsible for any accident happened consequently to breach of instruction.
※The event contents may be subject to changes / cancellations.
(Inquiries)Tower Records Shibuya tel:03-3496-3661

http://towershibuya.jp/2018/12/04/128453

※Please note that 「a knot」and our site cannot accept any inquiries regarding 『読弦 弐』(Dokugen Two)