Artwork and Playlist for the Music Clip Collection Blu-ray & DVD "Average Sorrow" (2015.4.1 RELEASE) announced!!
2015.03.10 NEW RELEASE
 A video clip compilation that will shock your senses!

 DIR EN GREY, who carries the theme of PAIN since their formation just recently released their 9th album "ARCHE". The same DIR EN GREY will be releasing a compilation of their latest music clips co-produced with genius directors all packed into "Average Sorrow" to be released on April 1st, 2015!

 "Average Sorrow" will include 9 videos made available after their last Music Clip Compilation "AVERAGE BLASPHEMY" including the lyric video of 'Kuukoku no Kyouon,' the video for 'Uroko' a track from their latest album "ARCHE" and making of clips. "Average Sorrow" will invite viewers to ponder on the messages behind the extreme but very present social diseases that everyone would rather turn their back on.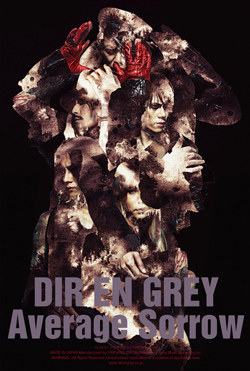 DIR EN GREY
Average Sorrow
2015.4.1 RELEASE

-Music Clip-
Hageshisa to, Kono Mune no Naka de Karamitsuita Shakunetsu no Yami
LOTUS
DIFFERENT SENSE
Rinkaku
Unraveling (Restricted Ver.)
SUSTAIN THE UNTRUTH
Kuukoku no Kyouon
Revelation of mankind (Restricted Ver.)
Uroko

-Making of Music Clip-
Hageshisa to, Kono Mune no Naka de Karamitsuita Shakunetsu no Yami
LOTUS
DIFFERENT SENSE
Unraveling
Revelation of mankind
Uroko

[Run Time: APPROX. 102 min.]

【1st Press Limited Edition】
■Super Jewel Case 
■A flyer for a bonus in relation to the 9th ALBUM)【Special Limited Version】"ARCHE"(released 2014/12/10) (SFCD-0136~138/SFCD-0139~141) is included.

Blu-ray SFXD-0012 ¥6,000 (tax out)
DVD SFBD-0058 ¥5,000 (tax out)

Manufactured by FIREWALL DIV.
Distributed by Sony Music Marketing Inc.

Click here for ︎DISCOGRAPHY